Tenth Asia Pacific Regional Conference of the International Society for Third Sector Research (ISTR)
December 4-5, 2017 | Jakarta, Indonesia
Hosted by Trisaki University


KEYNOTE SPEAKER:
Akihiro Ogawa, Professor of Japanese Studies, Asia Institute, University of Melbourne, Australia, is an internationally active scholar working on Civil Society in Asia.
CALL FOR CONTRIBUTIONS
"Global Challenges and Sustainability in the Asia Pacific: The Role of the Third Sector"
Jakarta, 4-5 December 2017
Pullman Hotel Central Park, Hosted by CECT Trisakti University
PhD Seminar (2-3 December 2017)
Continuing a tradition now well established for the ISTR International Conferences, we are, for the first time, going to hold a PhD seminar for research students from the Asia Pacific Region. This is an excellent opportunity for research students to gain advice and broaden their research horizons with experienced academics from a diverse range of countries in the region and to build important networks with fellow research students. The PhD Seminar will be held in Jakarta on 2-3 December 2017, at MM-CSR Trisakti University Campus, hosted by CECT Trisakti University.
Link: http://www.istr.org/
---
13th International Conference Amsterdam, The Netherlands 10-13 JULY 2018
CALL FOR PAPERS
Democracy and Legitimacy: The Role of the Third Sector in a Globalizing World
DEADLINE FOR SUBMISSIONS: 27 OCTOBER 2017
The focus of the 2018 conference
Conference organizers are keenly interested in a wide range of submissions, especially on topics related to democracy and legitimacy. In addition, ISTR is also interested in research which advances our understanding of theory, policy, and practice of third sector organizations. Overall, the 2018 Amsterdam conference offers a unique, and particularly valuable, venue for engaging with its very diverse membership of scholars to deepen our knowledge of these important issues:
Democracy and Civil Society Organizations
Challenges and Opportunities of Advocacy by NGOs and Nonprofits
Governance, Management, Adaptation and Sustainability of Third Sector
Organizations
Hybridity, Legitimacy and the Third Sector
New Models of Philanthropy and Voluntarism
Active Citizenship and Activism
The Third Sector and Development
Social Innovation and the Third Sector
Research on Teaching Third Sector Studies
Emerging Areas of Theory and Practice
To read the full call, please click http://www.istr.org/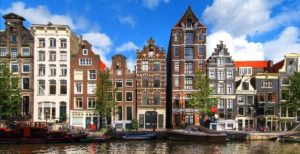 Hosted by Vrije Universiteit Amsterdam, Philanthropic Studies Department, in cooperation with Erasmus Centre for Strategic Philanthropy.